The Big Cypress Chapter is a dynamic group of 70 members who share a love of sewing, quilting, and fellowship.
We are fun group with all levels of expertise
who are willing to share our knowledge.
Calendar of Events
Sundays at Sterling --- Every Sunday 11:30 AM – 3:50 PM at Sterling Heights. Free.
April 17 - Big Cypress - Website Demo/Open Sew
April 24 - Big Cypress - Business Meeting
May 1 - Guild Meeting 2pm @ Savannah Center - Ellen Lindner: "Lessons Learned by a Fabric Whisperer"
June 5 - Guild Meeting 7pm @ Laurel Manor - Brenda Grampsas: Lecture/Truck Show, "Quilt Restoration Basics"
June 6 "Beginning Quilt Restoration" @ Rohan 9a to 3:30p --- Currently taking registration ---
**** No Guild Meeting in July ****
The Lake Eustis Art Museum is currently hosting a quilt exhibit 150 years of Pieced Quilts: The Judy Grow Collection. Located about 40 minutes from The Villages the museum is open 10 – 4, Tuesday – Friday, 12 – 4 on Saturday Note: it is closed on Sunday & Monday. http://lakeeustisartmuseum.org/

Classes


Member 2 Member Classes
May 12: Half Square Triangles – Any Which Way But Loose

Judi Rutherford; Eisenhower – 9a to 4 p; $10
May 16: Circle Quilt Technique -
Lois Borlase; SeaBreeze – 9a to 4p; $15

Course Description

June 9: Funky Flamingo Wall Hanging
Lynn Ierardi @ Eisenhower - 9a to 4p $25 (includes pattern)
Course Description

June 20: Improvisational Floating Squares
Debbie Bookman @ SeaBreeze - 9a-4p $15
Course Description

Visiting Artists
April 18:
Bee-utiful

Karen Kay Buckley @ SeaBreeze - 9a to 3:30p $50 - class fee and pattern
Course Description

May 2:
Floral Improv

Ellen Lindner @ Rohan - 9a- 3:30p $35
Course Description
Tips and Tricks


Back to Basics

Thread
Cutting
Needles
Color
How To Read a Pattern
Ironing & Pressing

Great Websites

Simple Simon & Co home to Elizabeth and Elizabeth sister-in-laws and homemakers. They write blog posts on quilting, sewing, and life in general. The tutorials tab includes a variety of free patterns and step-by-step instructions for all kinds of projects. https://www.simplesimonandco.com/


Looking for a 2018 project? Want to try a Block of the Month (BOM)? http://quiltdoodledesigns.blogspot.com/2017/12/lets-begin-2018-bom.html is waiting for you. The materials requirements and first block directions are posted and there is an overview of the quilt layout.

Maureen Cracknell, a fabric designer & quilt instructor, shares ideas and inspiration. Quilt as you go (QAYG) is one of the techniques she teaches in her detailed step by step tutorials. During 2017 she co-hosted, The Sewcial Bee Sampler Block of the Week Sew Along. The materials and detailed instructions for the 25 blocks are still posted.
https://maureencracknellhandmade.blogspot.com
http://www.afewscraps.com is home to Christina Cameli, a Craftsy instructor and author. Read through her blog posts to see what she is up to, Check out the November30, 2017 post where she posts a tutorial on making quilted buckets. You will also notice she has just released her newest book Step by Step Tutorials Wedge Quilt Workshop.

If you have wanted to try working with wedges this might be for you.
********************************************************************************************************************************************************************************************************
What We Have Been Doing ----
March 2018 Show and Tell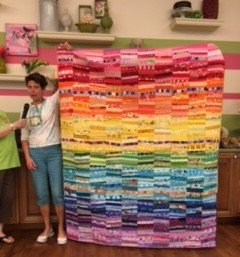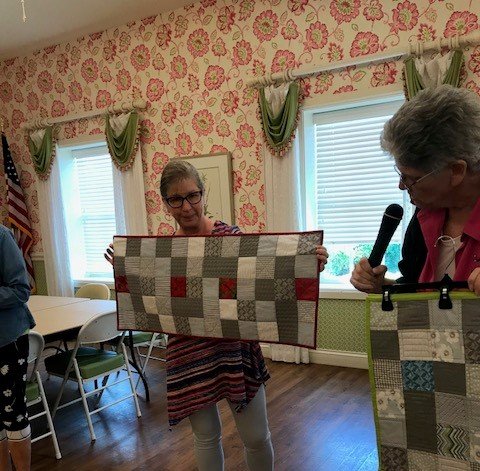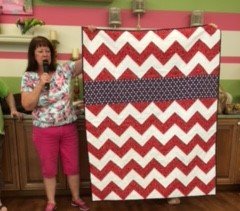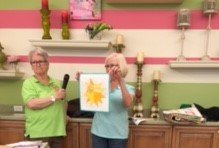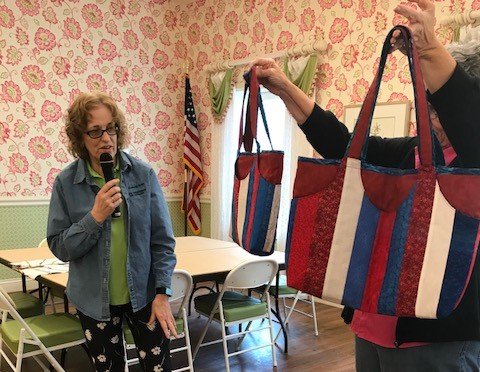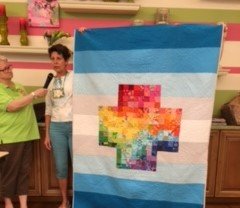 ****************************************************************************************************************************
Quilting Retreat - March 19-23 .... stay tuned for photos